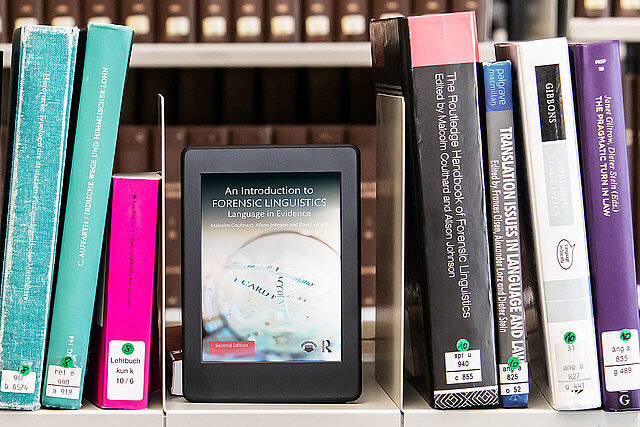 ULB Düsseldorf caters to your digital literature needs with a diverse range of electronic media. These increasingly include e-books. See here for full details of how to access the e-books and further related services.
You can browse the e-books in the ULB catalogue, which is the central reference tool of our holdings. Start your search, then limit the search results list to the publication type "online". Alternatively, search the mostly subject-specific e-book collections.
You'll need to register to be able to make full use of the e-books that we've licensed via Ebook Central (print, download, annotate texts, etc.). This service is free and usage is not subject to any obligations.
Click on the e-book link in the ULB catalogue, then on "Download PDF chapter". If you want to download a chapter, you'll be prompted to create an account. The password must contain at least 8 letters, numbers or special characters. You can then log in using the account you've created.
Alternatively, you can register directly with Ebook Central (click on "Sign In" at the top right, then on "Request Account"). In future, you'll then be able to use your account details to log in.
See the help page for details of all the options to print and download texts. The site also contains information on integrating search results into literature management programmes and much more.
---
Terms of use and licensing conditions
For licensing reasons, only HHU members and affiliates are able to access the e-books. All other ULB library card holders are only able to access the e-books at the computer terminals in the library.
According to the applicable copyright laws and ULB Düsseldorf's licensing agreements, in most cases the contents of databases and e-books may not be downloaded or printed out in whole or in large parts.
---
If a citation is provided, you can perform a direct search via the Citation Linker. Simply enter the bibliographic details for an e-book to learn more about its availability.