You can search for literature using the ULB catalogue, subject databases and academic search engines. However, it is not always obvious how to access the full text. On this page, you can find out how to download full texts licensed by ULB.
Please note!
This information only applies to the research PCs within ULB and to access from the university network (also via VPN).
Browser extension LibKey Nomad
With LibKey Nomad, ULB Düsseldorf offers its patrons a free browser extension that enables the easy download of full texts from publishers' websites and search engines such as Google Scholar. In case an article you are looking for has not been licensed by ULB, LibKey Nomad will direct you to the interlibrary loan service where you can place an order.
LibKey Nomad is available for all major browsers.
Link resolver in the ULB catalogue
In the ULB catalogue, you can search for articles from journals via the tab "Articles". Here you can download the full-text PDF as well as browse the issue of the journal.
The link resolver not only shows you whether the publication is Open Access, but also whether it has been retracted.
My access button looks different - what now?
In this case we cannot make the full text available via LibKey, but via another platform. If you have any problems, please contact our Information Desk. In case we have not licensed an article, you will be redirected to the interlibrary loan via the button "Check Access".
Link resolver in subject databases
Look for the button "ULB Volltext" in subject databases. This will take you to the full text or interlibrary loan.
Virtual journal shelf: BrowZine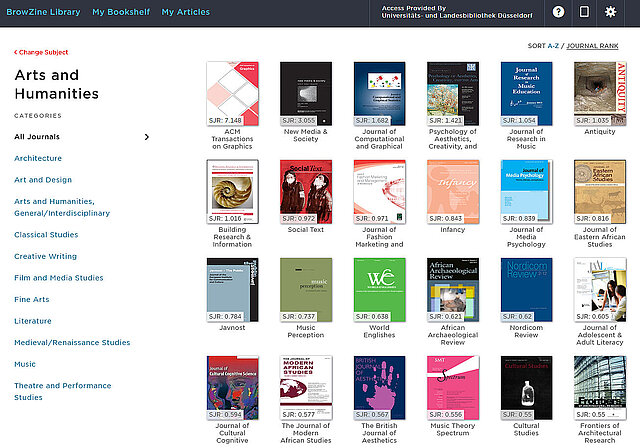 In BrowZine, you can browse the e-journals licensed by ULB Düsseldorf and access the full texts of the individual articles. You can also save journals to your personal bookshelf, save articles and export article details to literature management programmes.
To the virtual journal shelf BrowZine