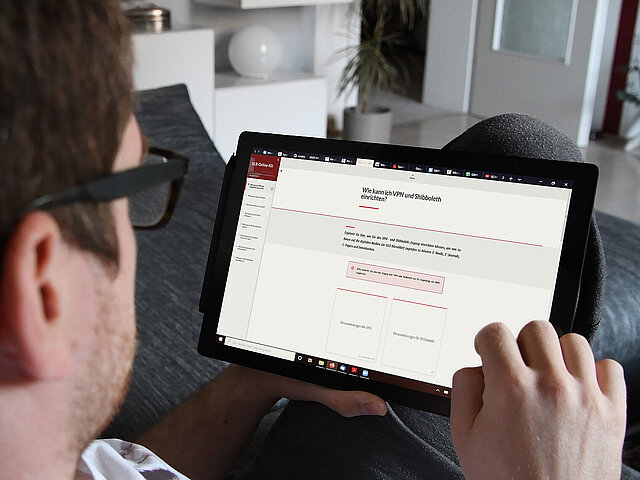 HHU students and staff are able to access ULB's licensed online resources both from home and while on the go.
All other users are unfortunately only able to access these resources at the ULB.
Two options are available to access online resources: either via a VPN connection or by logging into selected publishers' websites via Shibboleth.
The university will provide a VPN connection. You need to activate this VPN connection to use ULB's online resources (databases, e-books, e-journals) while off campus.
See the HHU Wiki for instructions on how to gain access using all of the standard operating systems. There is also an instruction video on how to install the VPN client in Windows.
Please report any issues you encounter in the VPN network: .
Licensed online resources can also be accessed using the Shibboleth authentication procedure.
Use your uni ID to register and to gain authentication for publishers' licensed products via Shibboleth. You might need to gain authentication via Shibboleth again when you switch between the websites of different publishers.
Look for the login button on the publisher's website and select the option "Log in via Shibboleth or Athens". The name of this login procedure may vary depending on the publisher; it may for example also be called "Shibboleth login", "Institutional login" or "Login via your institution".
Select the University of Düsseldorf/Heinrich Heine University Düsseldorf in the list of universities.
You'll then be prompted to log in using your uni ID. Please note that personal data is transmitted when using Shibboleth.
American Chemical Society
American Institute of Physics
American Physiological Society
American Society for Microbiology (über Highwire Press)
Annual Reviews
Beck e-Library (früher: Vahlen eLibrary)
Biochemical Society (Portland Press)
BioOne
Brepols
Brill
British Medical Journals
Brockhaus
Cambridge
Clarivate (Web of Science)
Duke University Press
Ebsco
Edward Elgar Publishing
Elsevier
Emerald
Gale
GBI Genios (WISO)
Hanser eLibrary
Highwire Press
Hirzel eLibrary
Hogrefe
Ingenta
Institute of Physics
John Benjamins
JSTOR
Karger
Mark Allen Group
Mary Ann Liebert
Meiner Verlag (Felix Meiner)
Microbiology Society
MIT Press
Mohr Siebeck
Munzinger
Nature
New England Journal of Medicine (NEJM)
Nomos
O'Reilly Media Inc.
OECD iLibrary
OVID
Oxford University Press / Journals
Oxford University Press / References (Ebooks)
Pearson eLibrary
Portland Press (Biochemical Society)
Preselect.media / Plattform Content Select
Project Muse
ProQuest
RILM / MGG Online
Royal Society of Chemistry
Sage Publications
SIAM
Springer
Steiner eLibrary
Tectum eLibrary
Taylor & Francis
Thieme
utb-studi-e-book
Vandenhoeck & Ruprecht
Walter de Gruyter
Web of Science
Wiley
It may be that you're able to gain authentication for a publisher via Shibboleth, but still cannot access the desired medium. In this case, we have not licensed this particular medium.
Please submit an acquisition proposal for e-books. For journal articles, you can request an interlibrary loan.
HHU members are able to order journal articles published by Elsevier for free via our Elsevier order service.