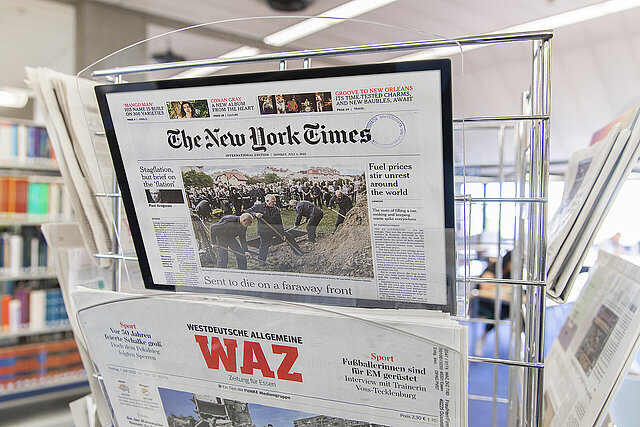 For your digital literature supply, ULB offers you access to a variety of electronic media. These increasingly include regional and national e-newspapers.
Use the ULB catalogue to search for e-newspapers.
Alternatively, you can search directly for licensed and freely available e-newspapers in our database information system (DBIS).
Other important portals
At the electronic reading place in the special reading room, you can view current daily newspapers that ULB receives due to the right of deposit.
You have access there to electronic daily newspapers published in the Düsseldorf administrative district after 07.02.2013. These are copyrighted newspapers, which are not freely available on the Internet. The individual issues are available 8 days after publication in each case.
Access is via the e-paper catalogue.
The project, which is funded by the state of NRW, digitizes newspapers from NRW in the period from 1801-1945 and presents them to the general public in the newspaper portal zeit.punkt NRW. The collection is being expanded on an ongoig basis.