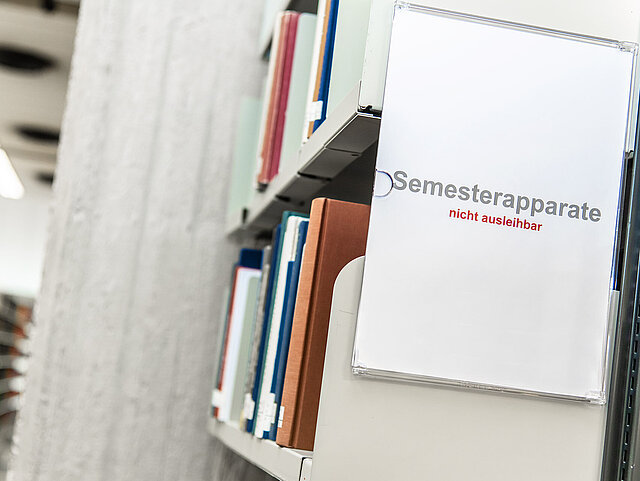 Course collections contain literature that is particularly relevant to a specific course. They are made available as print or electronic collections for the duration of the semester.
Teaching staff can find information on setting up a course collection here and students can learn more about using the course collections.
The course collections are made available in the Central Library as well as in the subject libraries on specially marked shelves. The holdings stored here are for reference only. The items are identified in the ULB catalogue with the reference "Semesterapp." together with the respective course number.
Media are usually released from a course collection again towards the end of the semester (usually in mid-March or mid-September).
Digital content is made available to course participants in electronic course collections. These course collections can include:
journals and chapters from books (as permitted by copyright laws, i.e. max. 15% of a copyrighted work) as PDF files

weblinks

your own files
For copyright reasons, the copyrighted documents made available in the course collections are deleted towards the end of the semester (end of March or end of September).
Therefore, please remember to save a copy of the required texts for yourself as necessary in good time.
HHU's ILIAS learning management platform provides the technical basis for course collections. You'll need to submit an activation request to the Centre for Information and Media Technology (ZIM) to be able to edit course collections in ILIAS. Following activation, teaching staff receive a link to the ULB catalogue in their ILIAS course, which includes a request option for books as well as journal articles and book chapters in a PDF format.
Instructions on how to prepare a course collection (German)

Copyright information (German)
---
Current print course collections